Paint your Kitchen Cabinets - Tips & Tricks
What paint should I use to paint kitchen cabinets?
Have you been thinking about taking on the task of repainting your kitchen cabinets?  Today there are so many different types of paint on the market that it can be confusing.  I have been building and painting cabinets for a few years know and have come to my favorite Paint choice.
ProClassic Interior Waterbased Acrylic – Alkyd by Sherman Williams is currently my favorite paint for repainting kitchen cabinets. ProClassic is available in an alkyd formula for use in non-restricted areas. In one formula, it offers the best of all worlds: the application and finish of the alkyd, the non-yellowing properties of an acrylic, and it's sure to help you get the job done faster. 
How to prepare kitchen cabinets for paint.
DO NOT skip the prep work!  I have used many different types of paint, regardless of claims always properly prepare cabinets.
Start by removing all doors & hardware.  
When your not using a paint sprayer it is much easier to paint kitchen cabinet doors while laying flat.  
Take the time to tape off the areas in the cabinet frames or against the walls where you don't want paint.
Wipe down all surfaces with Denatured alcohol or a Mineral Spirit.  
Lightly sand all surfaces starting with 80 grit and ending with a 220 grit.  
Wipe down all surfaces with Denatured alcohol or a Mineral Spirit for a final cleaning.  
Get started priming & painting
IMPORTANT TEST:  After your first coat of primer/paint is dry do a finger nail test in various areas.  Scratch the surface to see if the paint can be removed.  If you comes off you will need to sand these areas more.  Cabinet side can be extremely difficult at times to get good adhesion. 
Can you paint Kitchen cabinets without a sprayer?
YES….There is always this assumption that you need to own a fancy paint sprayer to paint kitchen cabinets and that just not the case.   I have found that using ProClassic with Alkyd dries extremely smooth even without a sprayer.  ProClassic Acrylic-Alkyd provides excellent flow, leveling and sag resistance – and leaves no brush or roller marks.
How do you avoid brush strokes when painting kitchen cabinets without a sprayer?
To avoid brush strokes you will want to start by using a quality paint brush & a foam paint roller.  The trick is to start with a brush and then roll over everything with a smooth foam paint roller to remove as many of the brush strokes before the paint starts to dry. 
It is very important to work quickly so that the brushed paint doesn't dry before it is rolled.  Take it one door at a time!
What kind of paint sprayer should I buy?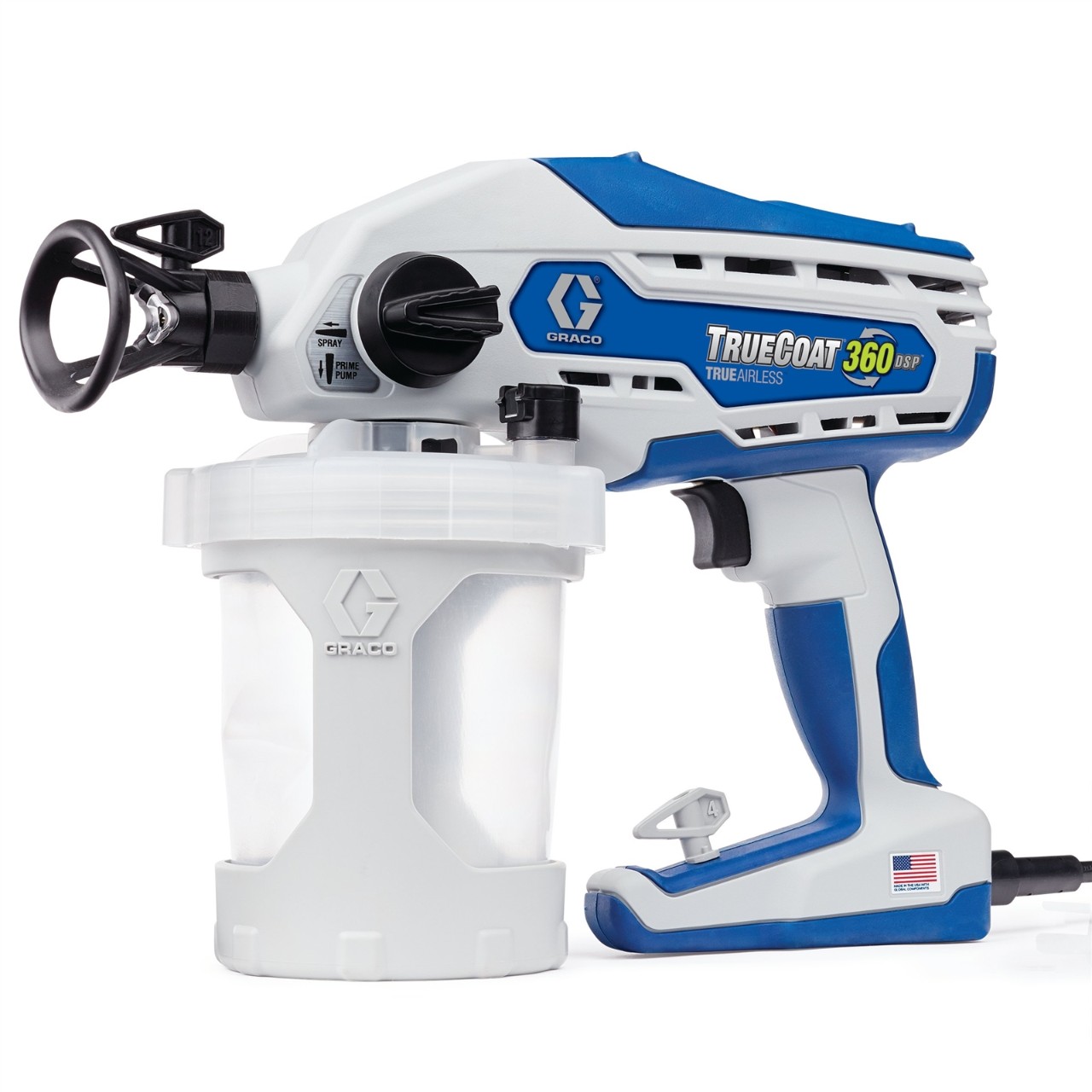 I have tried many different paint sprayers and have come down to one of my favorites. For small jobs such as cabinets or furniture painting I recommend Graco TrueCoat 360 DSP Electric TrueAirless Sprayer.  This is considered a DIY paint sprayer, is extremely easy to use and affordable (around $200)!
The TrueCoat 360 DSP sprayer combines precision, speed and control with true airless spray technology to deliver a professional finish for your painting and staining projects. A rugged storage case and six additional FlexLiner paint bags ensure you're always ready for your next project.
If your looking to have your kitchen cabinets paint by a Pro feel free to contact me for a detailed quote.  Check out some of our standard refinishing costs here!